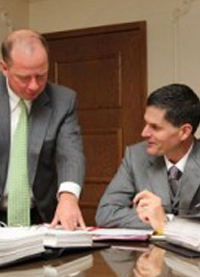 The MG Law Model
Large law firm expertise and experience, Small law firm billing rates.
Mayer Galligan Law, LLC is a Milwaukee based, business and estate planning boutique law firm specializing in advising and counseling businesses, business owners, individuals, beneficiaries and financial institutions in legal areas including sophisticated business succession planning, mergers & acquisitions (M&A), estate and tax planning, business contract negotiations, charitable planning, family business transactions and probate and trust administration.  We strive to be the Milwaukee area's best business and business succession planning attorneys.

Business owners and entrepreneurs understand what it takes to be successful; passion, energy, risk acceptance, stamina, sacrifice, and dedication. They want lawyers who understand and appreciate the problems, risks and issues of business ownership and entrepreneurship.  They demand lawyers who will invest the same kind of commitment in them and their future. They want lawyers who are entrepreneurs.
We are entrepreneurs.  We understand entrepreneurs and business owners. We approach the practice of law and our client service as a successful entrepreneur would, with energy, excitement, and a strong drive to succeed.  Collectively, we possess almost 30 years of experience practicing law at a very high level.  Mr. Mayer and Galligan each have extensive experience working and training in large, corporate law firms.  We are experts in the areas of law in which we practice.
Mayer Galligan Law, LLC operates on a business model that is different than the model used by large, corporate law firms.  The global economy changed post-Lehman collapse, and the legal business environment was not immune from that change.  Mr. Galligan and Mayer appreciate that change, and have formed Mayer Galligan Law, LLC based upon a business model that meets the demands of the new business environment.
Expert attorneys.  Lower Rates. Mayer Galligan Law, LLC has a vastly different expense structure than the large firm.  As a result, we are able to charge substantially lower rates than large firms while providing absolute expertise in the areas of law in which we practice.  In addition, we can be creative with our billing structures.  We're not tied to the old, tired hourly-billing model of the large law firm.  This creative billing structure allows us to develop much closer relationships with our clients, evolving into a "trusted advisor" role.  From this trusted advisor role, we are better able to provide rock-solid legal advice in promoting the growth of our clients' businesses.
Please allow us to put our extensive legal experience and our better, low-overhead business model to work for you.