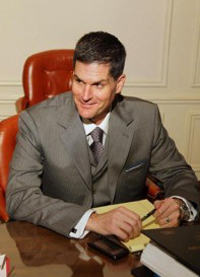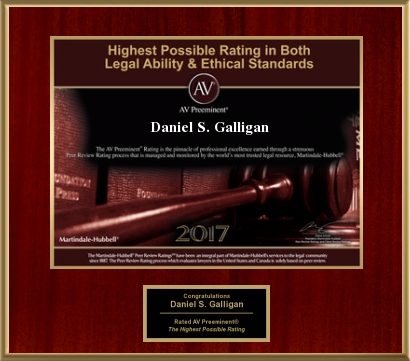 Dan is an exceptional counselor on business and legal matters to owners and leaders of privately-held companies.  Our firm has worked alongside Dan on a number of client engagements involving privately-held, many of which are family held, businesses involving critical matters pertaining to ownership transition strategies and other M&A initiatives.  For business owners considering a major strategic or financial initiative, our firm is quick to recommend that they first have a conversation with Mayer Galligan Law.
Christopher Riegg
Daniel S. Galligan
Mr. Galligan began his law career at the Milwaukee based law firm, Reinhart Boerner Van Deuren sc.  After six years with that firm, he joined the Milwaukee business law firm Whyte Hirschboeck Dudek S.C. (now known as Husch Blackwell).  At WHD, he attained the status of a shareholder in that firm's Corporate and Business Practice groups.
In 2010, Mr. Galligan partnered with his friend and former colleague Steven Mayer to form Mayer Galligan Law, LLC.
Admission(s)

Education
Marquette University Graduate School of Business, Masters of Business Administration (MBA), with honors, 2000
Marquette University Law School, J.D., cum laude, 1999
University of Wisconsin-Madison, B.A. in International Relations and Political Science, 1992
Awards and Distinctions
Representative Work
Regularly helps owners decide what to do with his or her business at retirement.  Sell?  Transfer to "insider" (e.g. children, managers, etc.)? Hire professional manager(s)?  Other options?
Helped two entrepreneurs start new business venture on their kitchen table.  Sold that company approximately four years later for $100,000,000+. Assisted them in all aspects of business enterprise throughout its start-up, growth and exit/sale.
Regularly represents owners in business purchases and sales, with transactions ranging from the small ($500,000) to extremely large ($100,000,000+, as described above).
Represented numerous professional service firms (ex. law firms, accounting firms, professional engineering firms) in purchasing and selling office locations and/or other practices.  Also, negotiated the agreement(s) governing the legal relationship among the owners of such professional service firms.
Represented numerous diverse businesses and business owners in buying and selling companies (mergers and acquisitions).
Represented numerous companies in attaining financing through traditional lending sources and through angel and private equity financing sources.
Represented business entities (corporations, LLCs, partnerships and nonstock/nonprofit entities) in a wide array of other corporate matters including corporate governance issues, employee and executive compensation, tax, choice of entity and entity capitalization issues, and in reviewing, negotiating and drafting other business contracts and agreements, both general and complex.
Professional Associations
American Bar Association
Milwaukee Bar Association, Business and Banking Law Division Co-Chair (June 2007-2008)
Wisconsin State Bar Association, Subcommittee on Potential Revision of Chapter 183 (2009)